Perhaps the better question is, doesn't wine just sell itself? It certainly seems to, according to the latest Nielsen research, highlighted in The Future is Bright for US Wine in 2017: Statistics from 2016 Paint Rosy Picture. Evidently, approximately 36% of Americans drink wine, with 38% of us (who me?) imbibing on a weekly basis. The top consumers by generation are matched by millennials and Baby Boomers. Considering that 15% of millennials still live at home, it's not surprising to observe shared drinking habits.
So, since wine is clearly winning, why should a vineyard or winery need a blog?
In preparation for today's visit to LaBelle Winery, Kristin and I thought the question seemed worthy of some consideration. Here are the top three reasons you should consider blogging about your vineyard or winery in 2018.

Three Cheers to Blogging About Your Vineyard or Winery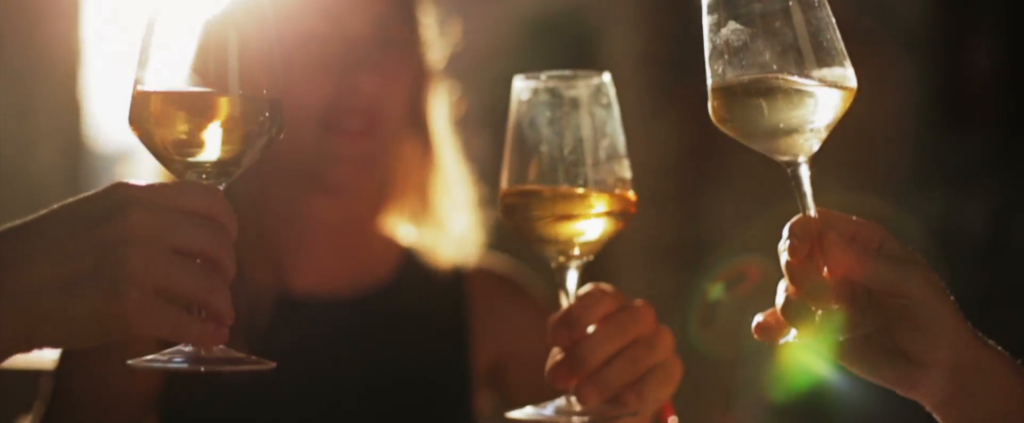 Wait! Vineyard or winery. What's the difference? Well, a quick read of this PureWow blog post (see what I'm doing here?), reveals that:
A vineyard is a plantation—of any size—that grows grapes meant to produce wine. A winery is a licensed property that makes wine. So, a vineyard can have a winery that produces wine from the grapes it grows, but it can also sell its grapes to outside wineries and purely act as a grape-grower. Conversely, a winery can operate without having a vineyard, by making its wine with grapes brought in from outside vineyards.
In other words, will Kristin and I be able to enjoy a glass of wine at LaBelle? Yes. Could we if LaBelle was strictly a vineyard? Probably not.
Back to the point. Why should LaBelle or any other winery, for that matter, invest time, money, or both, into blogging? Let's make a toast… or three.
Toast #1 –
You Gotta Recognize
Be recognized, that is.
One of the easiest ways to introduce your brand and remain relevant is by posting to a blog on a regular basis. A good rule of thumb is at least twice a week if you can manage it.
And if you can't manage it, pay someone who can. The goal here is to put your blog in the hands of a professional who will commit to creating compelling, original content on a set schedule. Sharing content, specific to your brand and business, according to a strategic routine is a solid way to establish trust with your client base, both new and loyal.
Toast #2 – Make (and Maintain) Meaningful Connections
Blogging helps establish, but also consistently supports, your brand. Whether you're speaking to loyal clients or hoping to convert visitors to customers, people want to know about your business and the nuanced details that drive it. Look, we know, thanks to the research above, that Americans love their wine. And, we can get it just about anywhere. So, why choose your winery over others?
Well, for starters, what's your story? Think of the number of people who would consider running a winery as the absolute dream job. Granted, you know just how hard it is and all the non-glamourous aspects that come with a romanticized profession.
But, clearly this looked like a dream job to you at one point as well. So, how did you get started? Why do you do what you do? What's the deal with your logo? Where does the artwork on your labels come from? What is your favorite wine? Tell a story about the best conversation you had over a shared bottle of wine. The list goes on and on… and these are all legit questions I would (and have) ask someone who owns a winery or vineyard.
Toast #3 — Authenticity Comes with Age
Comforting, right? Sure, authenticity is arguably a buzzword right now, but with good reason. Consumers value trust and will pledge their loyalty to brands that value and protect said trust. Being authentic in your business is important and this includes how you communicate with clients.
According to a Dish Works blog post about wineries (ah, she's at it again with the blogging references), creative content and killer wine are connected by the age factor. The longer they're around, the better they get. Citing Influence & Co., Dish Works supports this claim, advising wineries and vineyards, "As your content marketing program continues to mature over time, the traffic and leads generated increase greatly while the cost per lead is driven down considerably."
So, get with the blogging program sooner than later and start realizing some serious ROI on your Rieslings and Rhônes...
Why Bother Blogging About Your Vineyard or Winery?